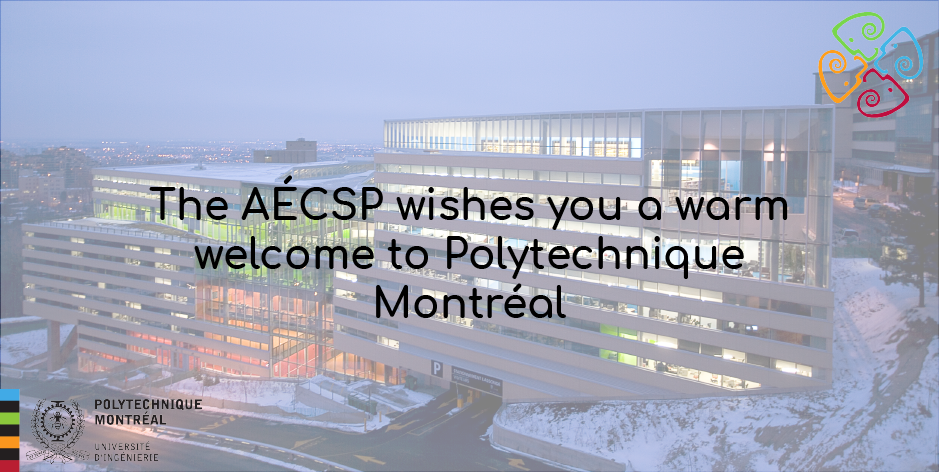 If you are new at Polytechnique next fall, this page is for you! First of all, we would like to congratulate you for choosing Polytechnique and joining us, you will not be disappointed.
On our website, you will find all the information you need as a graduate student at Polytechnique. First of all, know that the AÉCSP – the Association des Étudiants des Études des cycles des Polytechnique – is YOUR association. If you want to learn more about us, who we are and what we do, please visit this page. If you have any particular questions, do not hesitate to contact us, you will find all our contacts on this page.
As you will quickly notice, the AÉCSP is a big family, composed of master's, doctoral and other graduate students, and our particularity is that we come from all over the world, a real cultural wealth! In order for you to easily integrate and find your place among us, we have prepared you a lot of activities. The full program should be available in the next few days, but don't worry, there are activities for everyone: whether you like going out to celebrate or prefer to relax and bask in the sun while sipping a cold drink, we've thought of you!
Back-to-school activities
If you want to be informed about all the information about our activities, and more generally about our events during the year, join our facebook group AÉCSP.
RENTREE-EN-VACANCES_grandeaffiche-1

Thursday, August 29: Reception of new graduate students at Polytechnique – in partnership with GO-Poly
To participate in this event (strongly recommended), you will need to register by following this link. Registration is totally free for new students!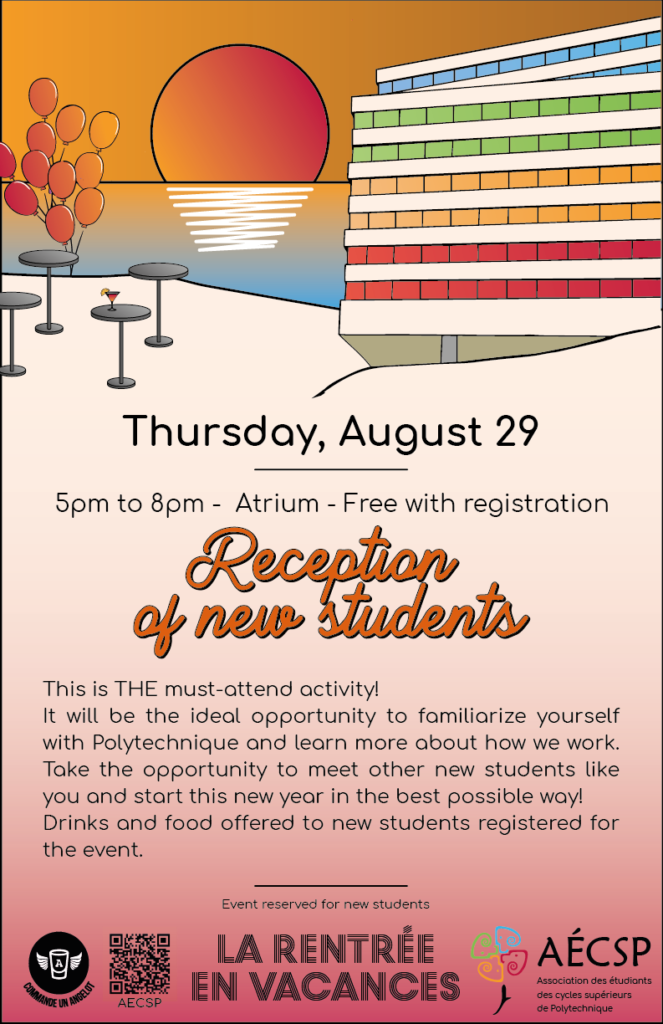 Wednesday, September 4: Outside games and activities, chill and fun in the sunset
Under the Montreal sun, we organize an afternoon of fun outside. There will be plenty of activities and games, as well as food and drink stands. All AÉCSP members are invited!
The AÉCSP committees will be present at this event and will present their activities to you, it is the ideal time to discover them and why not, join them.
This event is particularly suitable for children and families of members are also welcome!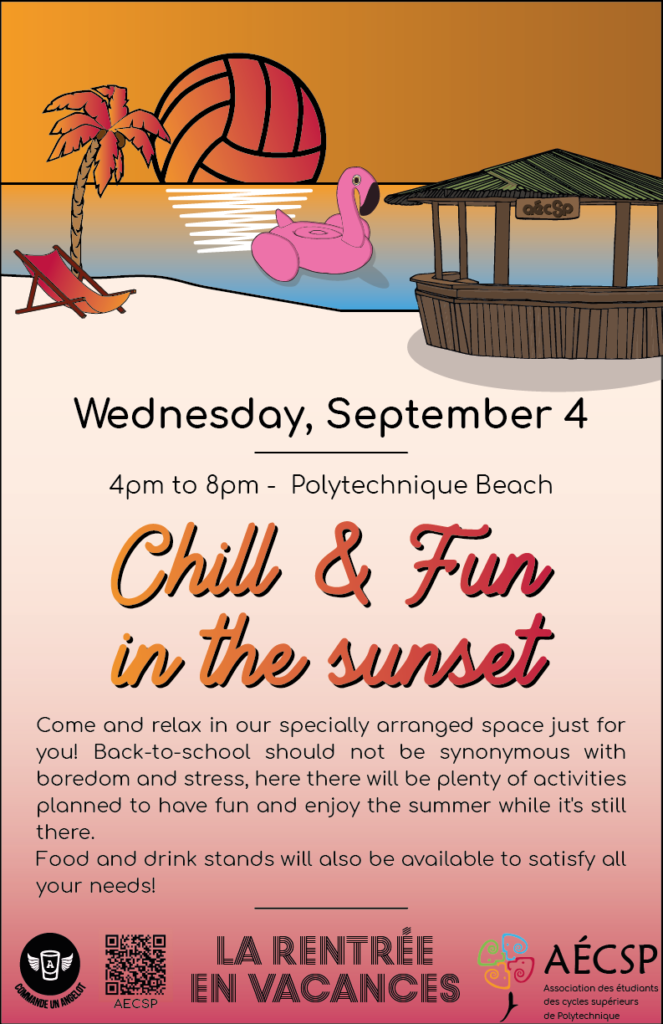 Thursday, September 5: Beignes et Café, Party de rentrée
Doughnuts and coffee is back! Come to the student lounge (C-418) this Thursday, September 5 from 9:00 am to 11:00 am. The AECSP team offers you coffee, as well as fruit and pastries! This is the perfect opportunity to socialize and meet your executive! We will also present upcoming events. For this edition, we will be lucky to have the SEP members present as well!
Finally, at the end of the day, we invite you to meet us at the Zeppelin bar starting at 8pm, to celebrate the beginning of the school year that promises to be full of emotions and entertainment! We are offering free drink tickets to the first 200 AÉCSP members arriving!