Invitation to come celebrate at the Thèsez-vous!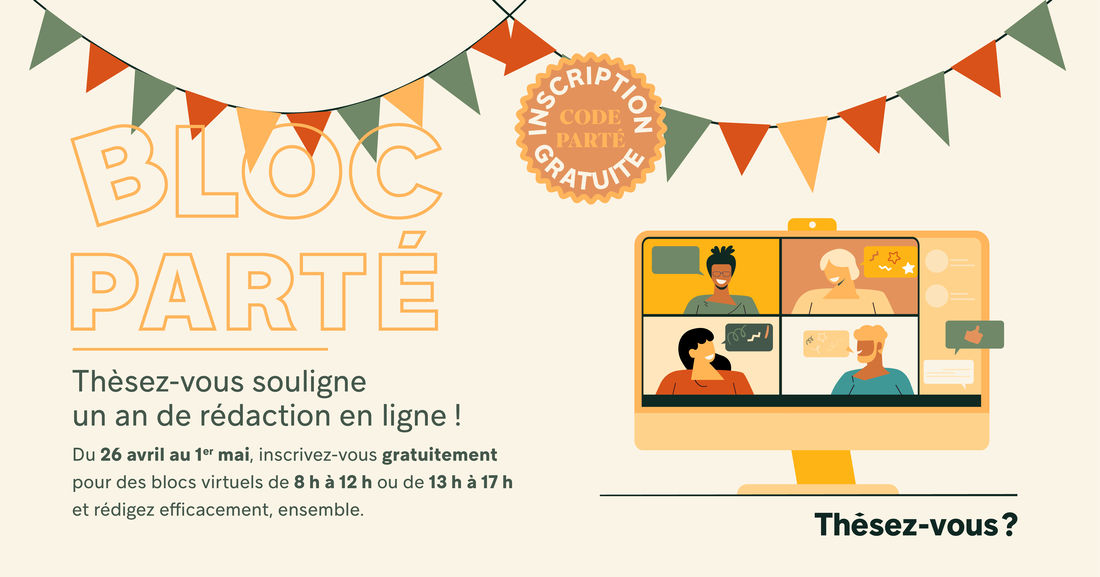 Right now, celebrating is no easy task! For lack of a real "share", we offer you to write for free and virtually from April 26th to May 1st. Each day, two blocks are proposed. A block? In the language of Thesis, it's a 4-hour structured and collective writing session, which allows you to be more focused, to counter procrastination, and to break the isolation.
After a year of the pandemic, sticking together and redefining what it means to write as a group, we wanted to celebrate.
To celebrate the community and its members, new and old, and those who will take the opportunity to join us for the first time. The students, the researchers, the professors, the facilitators, in short, those who make Thèsez-vous an exceptional community, despite the confinement and physical distance measures. If you are hesitating to try this formula, it's now or never!
Live from their apartments, our facilitators will make sure to manage time with our adaptation of the "pomodoro" approach and make a few jokes during breaks. At the end of the session, everyone will enjoy these few hours of caring productivity 😉
To learn more and to register, it's this way: www.thesez-vous.com/blocparte