February, 10-14
For this new edition of Graduate Students' Week, we have planned a lot of activities! Between games, networking cocktails and conferences, there will be something for everyone!
Here is the detailed program for the week: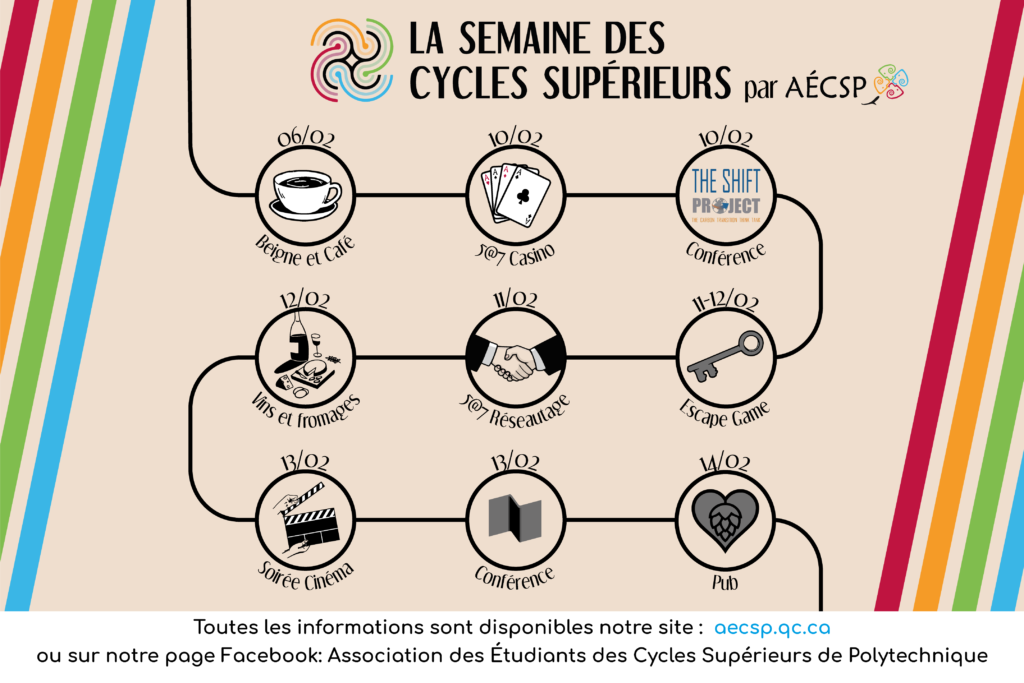 ---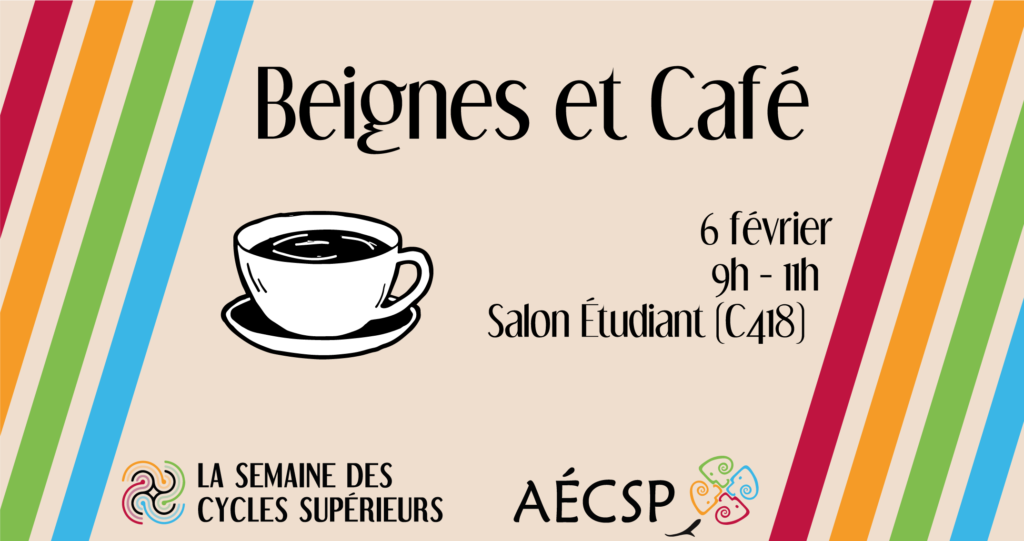 A traditional AÉCSP event … does it still need to be presented?
Come and have a free coffee and pastries, our committees will be there to present their activities! From 9am to 11am in the student lounge (C418). Link Facebook
---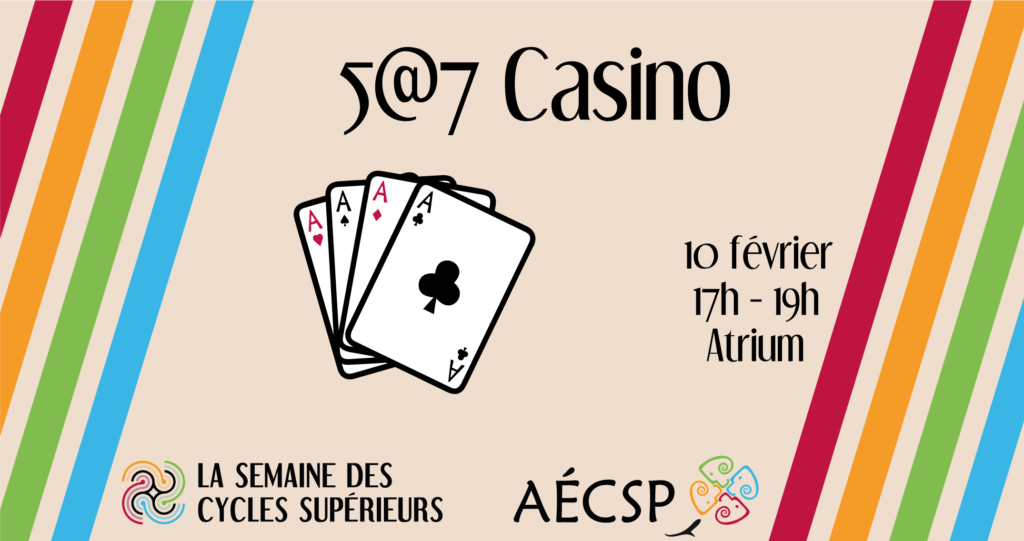 To start the Graduate Week, come and join us at the Atrium for a 5@7 Casino!!
Food and drinks will be offered, as well as a selection of games (poker table, blackjack, …). Invite your friends for a little game after class. Or come and enjoy the friendly atmosphere of the atrium to chat over a beer and a snack, it's up to you!
---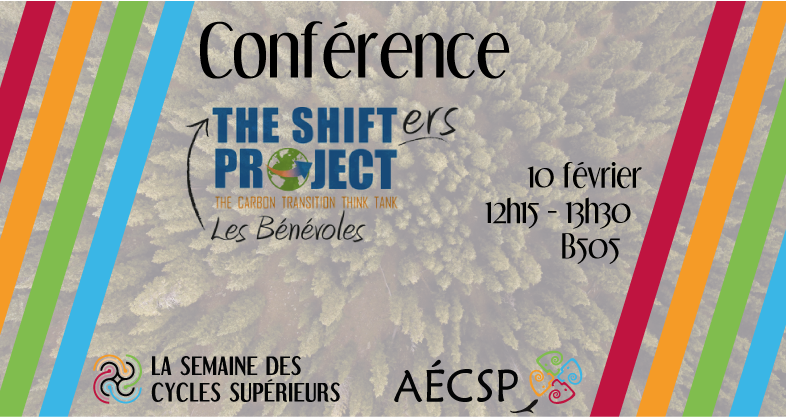 Conference: "Why is the carbon transition the number one issue today?"
Julien Toussaint is an engineer and energy consultant on electrification and innovation issues. He founded the Montreal branch of The Shifters, a group of volunteers supporting The Shift Project, a think tank that works towards a carbon-free economy.
This presentation is intended for the general public and will deal with the relationship between human societies and energy, the observable climatic impacts in Quebec and around the world, as well as the levers available to help limit climate disruption linked to human activities. Faced with the lack of concrete measures, it is more than time to act together for an enjoyable and inclusive future!
---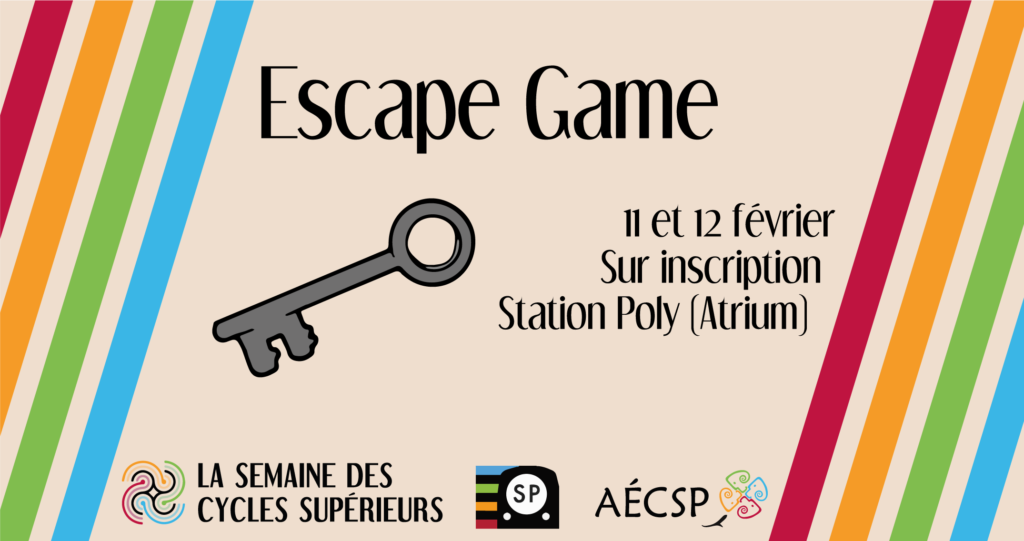 AÉCSP is back with a brand new Escape Game!! After the success of the first edition, we have come up with a whole new version! We have slots available on Tuesday, February 11th and Wednesday morning, February 12th. All information is on the Facebook event:
Link Facebook
---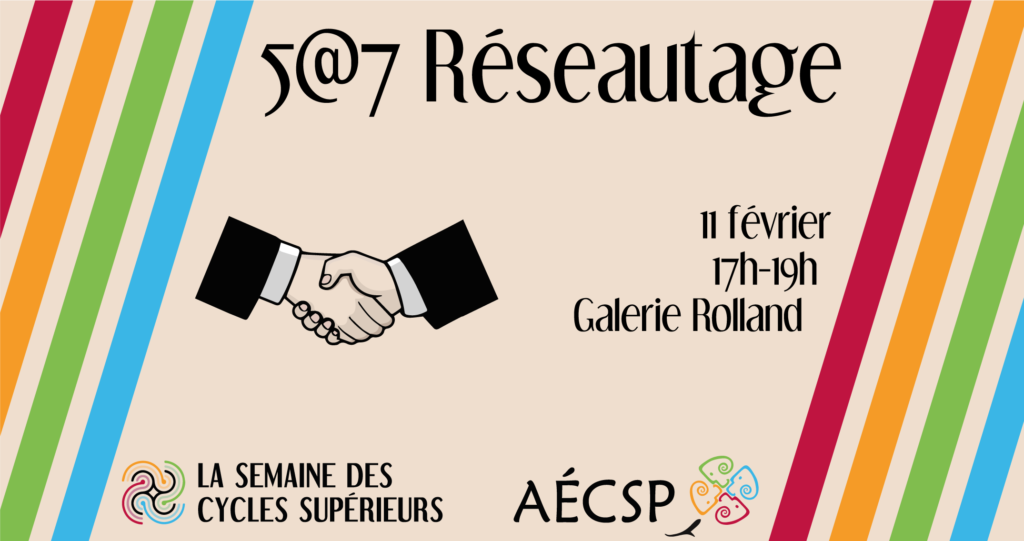 The AECSP invites you to participate in a networking event. This is the perfect opportunity to meet industry professionals to expand your network of contacts and explore various career options! Beer and pizza will be served in a relaxed atmosphere. We can also send your CVs to the companies that will be attending.
We look forward to having you with us!
Companies attending:
Accuracy Canada
Alten Canada
Centre de Recherche Informatique de Montréal – CRIM
Econoler inc.
Eidos-Montréal
Enerzam
GBi Experts-conseils inc.
Gestion Proxima Inc.
Go Concept
Groupe ABS
Institute pour la Mobilité et l'Aérospatiale au Canada
Intact, Corporation financière
IVADO
onepoint
Medtronic
Réseau Carrières
Sia Partner
SNC Lavallin
TALSOM INC
WSP
Technologies de Transfert de chaleur Maya Ltée
ZEROSPAM
---
Wine and Cheese is back for Graduate Week! As usual, good wines, quality cheeses and exquisite deli meats will help you unwind.
Tickets are limited, so buy your ticket as soon as possible during our sales slots from 12:30pm to 1:30pm at the Student Lounge (C418) for $15 for members and $25 for non-members.
Formal dress is required! Hurry to be sure to attend one of Polytechnique's best Wine and Cheese. PolyJam will be there to bring us the best atmosphere for this wine and cheese! Thanks to them!
---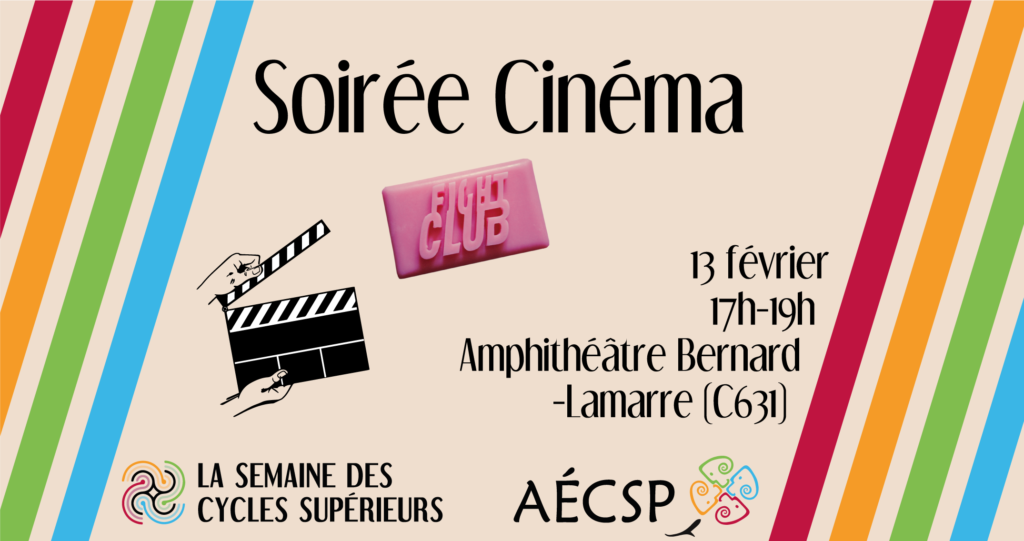 Meet us at the Bernard-Lamarre amphitheatre on the 6th floor of the main pavilion to watch this great classic!
The synopsis:
"The narrator, without a precise identity, lives alone, works alone, sleeps alone, eats alone his meal trays for a person like many other lonely people who know human, moral and sexual misery. That's why he will become a member of the Fight club, a clandestine place where he will be able to regain his virility, exchange and communication. This club is led by Tyler Durden, a kind of anarchist between guru and philosopher who preaches the love of his neighbour."
Food and beverages will be available 😉
---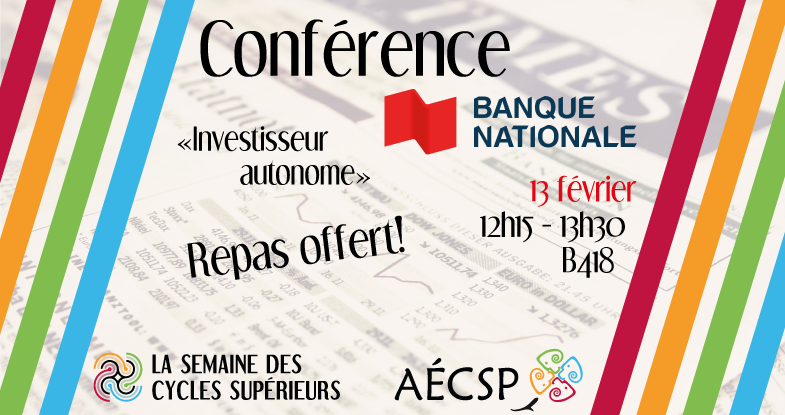 AÉCSP and the BNC are organizing a conference on " Autonomous Investor ". If you want to learn more about the world of finance and banking, now is the time! The conference will take place in B418 from 12:15 pm to 1:30 pm on February 13.

We offer you lunch! Please register so that we can plan the quantities. Registration link :
https://docs.google.com/forms/d/e/1FAIpQLSdcwJvrVcjqmwhBP9rQFVR7nce_6MjSDH2Y-I22Xe4R2PQBUg/viewform