Fall 2019 AÉCSP Elections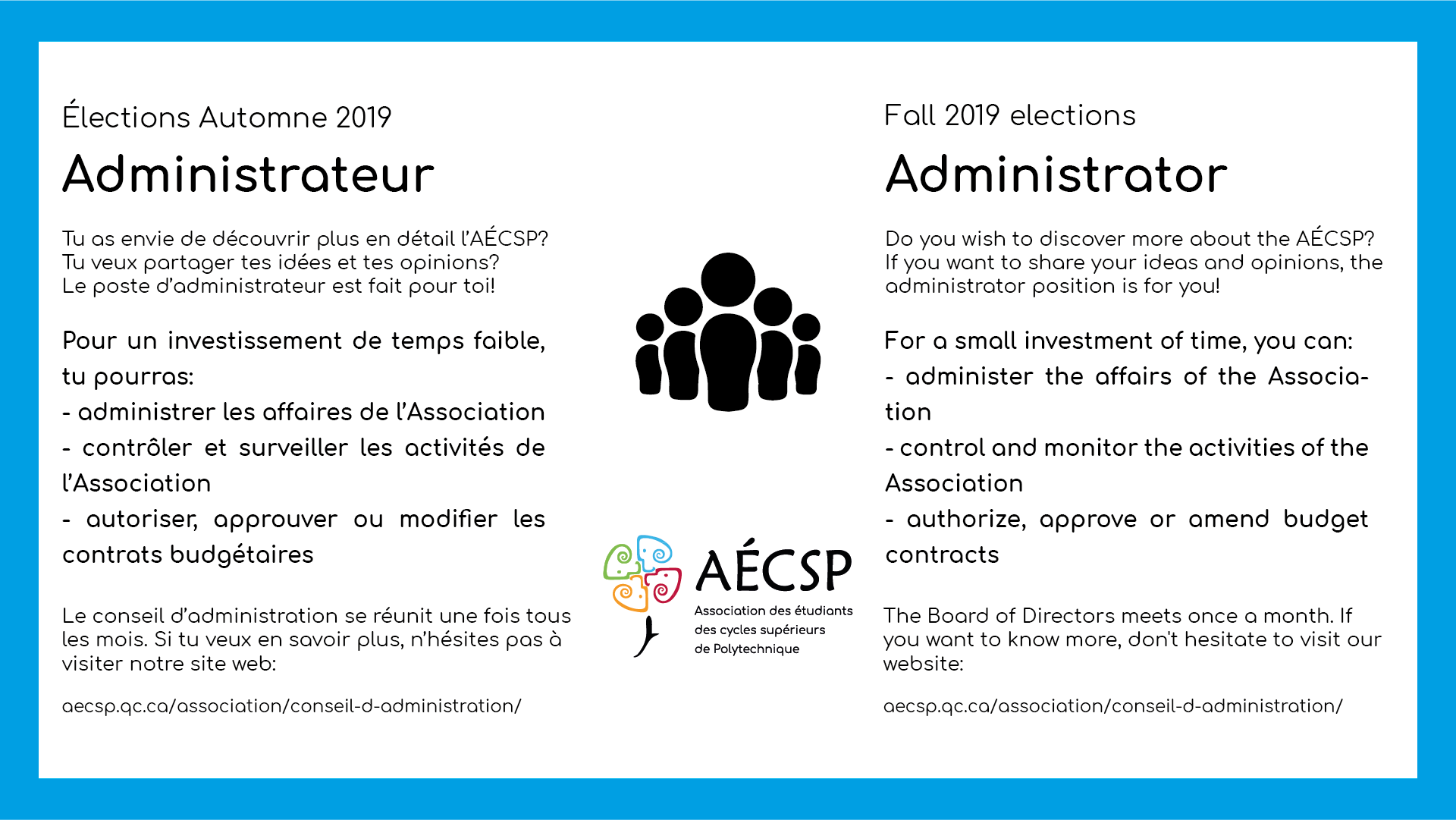 This October, we are opening the AÉCSP election period. This session, 7 administrator positions are to be filled!
Type A Director (Autumn)
Do you want to discover more about the AÉCSP?
Do you want to share your ideas and opinions? The administrator position is for you!
For a small investment of time, you can:
– administer the affairs of the Association
– control and monitor the activities of the Association
– authorize, approve or amend budget contracts
The Board of Directors meets once a month. If you want to know more, don't hesitate to visit our website:
aecsp.qc.ca/association/board of directors/
Election process
Do you want to apply? Here are the steps to follow:
Complete the application form and have it signed by at least 10 members of the AÉCSP from the same department as you. The form is available here.
Write a short presentation text of maximum 150 words (in French, but you can also include a translation).
Choose a good picture of yourself.
Return your completed form to the door box in room C-419
Send your short text and photo before October 23rd to president@aecsp.qc.ca
You must be a member of the association to be able to introduce yourself.
You want to launch an election campaign? A budget of $20 is granted to you and can only be spent during the campaign period. These expenses must be justified and declared to the election committee: tresorier@aecsp.qc.ca
You want to learn more about the positions: https://aecsp.qc.ca/association/reglements-et-politiques/.
You can also drop by C-420, one of the association's offices, during lunch hours, or write to president@aecsp.qc.ca
Important dates:
Nomination: October 8-23
Campaign period: from 24 to 28 October
Voting: 29, 30, 31 October
The counting will take place on 1 November. The deadline for receipt of the protest is November 6.