COMPETITION – Three Minute Thesis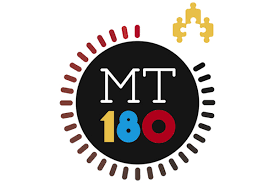 Dear doctoral students,
You are invited to share your passion for your research topic and to tell members of the Polytechnique community all about it by taking part in the Ma thèse en 180 secondes / Three-Minute Thesis competition.
COMPETITION INFORMATION
The French-language competition, Ma thèse en 180 secondes, is intended for doctoral students in all fields.
Students have three minutes—and not a second longer—to present their thesis topic to an audience that is interested but not specialized.
The objective is to convey your passion for your research while informing people in an accurate, creative way.
Polytechnique has taken honours at past competitions. Viviane Lalande (2012), Sami Hached (2014) and Odile Vekemans (2015) won the national finals (linked pages in French only).
Polytechnique hopes to repeat the exploit this year by sending its best presenter to challenge those from other participating Canadian universities at the finals held by the Association francophone pour le savoir (Acfas), which take place May 6th 2020.There are several prizes to be won ($1,500, $1,000, $750 and $500).
Polytechnique is also taking part in the English-language Three-Minute Thesis (3MT) competition organized by the Canadian Association for Graduate Studies (CAGS).
The date and the place of Eastern Canada's are to be determined.
Therefore, there will be an internal competition in French and one in English at Polytechnique.
POLYTECHNIQUE'S INTERNAL COMPETITION
The Direction of Academic and Research and the Association des étudiants des cycles supérieurs de Polytechnique (AÉCSP), Polytechnique's graduate student association, are organizing the internal selection competition for Polytechnique students.
The competition winners will be determined by a jury made up of members of Polytechnique's faculty and Québec's science media.
For each version of the competition (French/English), the prizes are:
1st prize: $500 and entrance into the finals at Acfas (French) and ACES (English)
2nd prize: $250
3rd prize: $150
The audience choice award will be given following a vote by those in attendance.
The Polytechnique competition will take place on Thursday, March 19th, 2020 at 12:45 (Galerie Rolland).
Coffee and pastries will be provided during the judges' deliberations.
TO ENTER
First, you must let us know ( etudes.superieures@polymtl.ca ) about your interest in entering the competition.
Then, send a maximum 450-word summary on the topic of your presentation.
DEADLINE FOR SIGNING UP and FOR SENDING YOUR SUMMARY (French or English) :February 03rd, 2020
More information: polymtl.ca/es/prix-bourses/en
Direction of Academic and Research – Graduate studies
AÉCSP