Challenge Cecobois 2021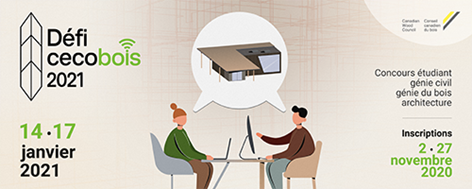 Pandemic or not, the Cecobois Challenge will not take a break in 2021! The event will return from January 14 to 17, 2021 in a completely virtual revamped version that promises to be most interesting.
The event will retain the very essence that has characterized it from the start. Students will have to design as a team a structure that meets certain criteria (structural integrity, originality and design, among others) using only wood as the structural material. No participant will know the theme or their teammates until the first day of the event.
The 2021 Challenge will stand out from previous editions in particular by its entirely virtual nature and by the deliverables that will be adapted to this new format. This unique version (we hope!) Will allow you to further explore your concepts in a situation that is closer to reality.
Registration deadline: November 27, 2020
Price: $ 50 (taxes included)
Website (for registration or for information): www.deficecobois.com Facebook: www.facebook.com/DefiCecobois
Instagram: www.instagram.com/defi_cecobois/
For more information, contact evenement@cecobois.com