2019 Edition CAÉC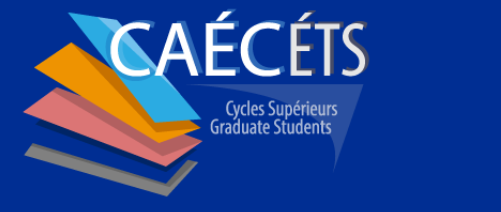 The ÉTS Graduate Student Committee is organizing, on November 20, 2019, for the third consecutive year, the Annual Conference of ÉTS Student Researchers (CAÉC ÉTS). The mission of this congress is to organize an event by and for students so that they can discover themselves and innovate together.
The different objectives are to:
Gather around common founding themes related to graduate life.
Discover the diversity of research carried out in engineering schools by presenting and disseminating our work.
Meet with companies recruiting at the graduate level and discuss our mutual objectives.
Meeting graduate students: what is life after graduation like?
Throughout the day, companies and start-ups will be able to meet students in AGORA.
The must-attend 3-minute student presentations will be divided into two time slots, morning and afternoon, to showcase the diversity of engineering research projects at Poly and ÉTS.
Experts in the field will come to discuss life balance, which is essential in an academic journey, and a fun quiz on research ethics will be organized.
Communication workshops will also be organized, with the invaluable assistance of SARA (Servie d'aide à la Rédaction d'Articles), to address the difficulties of communication in research (writing articles, conferences, posters…).
Finally, a post-graduation panel at the end of the afternoon will give our participants an overview of the possible professional paths after graduation.
Registrations are open, free of charge, and mandatory!
The abstract submission is open until November 1st, so hurry!
If you have any questions, please do not hesitate to contact the organizing team: caec.ets@gmail.com, visit our website http://caec.etsmtl.ca, and enjoy our Facebook CAECETS page!
We hope that this third edition will be a success and will bring together the Montreal graduate community,
The 2019 CAÉC ETS Team