The OSA-SPIE chapter activities are centered on the promotion of science to everyone and on the scientific vulgarization in optics among young student at primary and secondary school.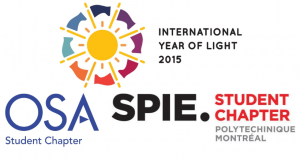 ---
Seminar of Jean-Luc Doumont: Structuring your research paper
* Download files: Poster, PolyMTL-X-002-flyer
The Optical Society (OSA) and SPIE student chapters of Polytechnique are proud to present, in collaboration with the AÉCSP and the complementary formation for doctorate, a special invited seminar with Jean-Luc Doumont. This invited speaker is a world-class specialist in scientific communication. Jean-Luc Doumont is renowned for his high quality presentations, workshops and courses which are all highly useful for anyone working in a scientific field. This presentation will focus on how to write a scientific paper in order to make a well structured and attractive communication for the readers. For more details, please consult the flyer.
The seminar will take place at the Bell amphitheatre Thursday the 19th of Mai at 9h30 to 11h30. Coffee and pastry will be served. The presentation will be in English.
---